A Biochemist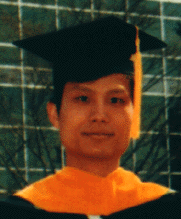 I received my BS degree in Cell Biology from the Department of Biology, University of Science and Technology of China, Hefei, Anhui Province, China, in 1990, and my Ph.D. degree in Biochemistry from the Biochemistry Department, Michigan State University in 1995. My Ph.D work was about "the structure and function of human RAP30, the small subunit of general transcription factor TFIIF", under the direction of Dr. Zachary Burton. In January, 1996, I joined Dr. Martin A. Gorovsky lab, Department of Biology, University of Rochester, Rochester, NY, as a postdoc fellow, to study the structure and function of Tetrahymena histone H1. In May, 1997, I began my second postdoc in Dr. Kathy Jones' Lab, Department of Regulatory Biology, The Salk Institute for Biological Studies, La Jolla, CA. My current research project is to study transcriptional activation by the HIV Tat protein.

Ph.D Thesis
The Structure and Function of Human RAP30, the Small Subunit of General Transcription Factor TFIIF
Publications
A novel CDK9-associated C-type cyclin interacts directly with HIV-1 Tat and mediates its high-affinity, loop-specific binding to TAR RNA, Wei P, Garber ME, Fang SM, Fischer WH, Jones KA. Cell. 1998 Feb 20;92(4):451-62.
RNA Polymerase II-associated Protein (RAP) 74 Binds Transcription Factor (TF) IIB and Blocks TFIIB-RAP30 Binding, S.M. Fang and Z.F. Burton, The Journal of Biological Chemistry, 270, 11703-11709 (1996).
A cDNA encoding RAP74, a General Initiation Factor for Transcription by RNA Polymerase II, A. Finkelstein, C.F. Kostrub, J. Li, D.P. Chavez, B.Q. Wang, S.M. Fang, J. Greenblatt, and Z.F. Burton, Nature, 355, 464-467 (1992).
Preparation and Purification of Porcine Growth Hormone and Its Monoclonal Antibodies, M.Z. Yu, S.M. Fang, Y. Wang, X. He, and Y.X. Shih, Chinese Biochemical Journal, 8, 587-592 (1992).
---
A Poet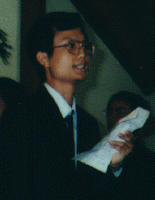 I started to write modern style Chinese poems since I was a high school student, and had my first formal poetry publication in 1987. Since then, I have published many poems in mainland China, Taiwan and United States, and received several nationwide and regional awards. In 1993, I started to post my poems to the Usenet newsgroup alt.chinese.text, and mailing lists chpoem-l and xys-friends.


Besides poetry, I also write proses and essays on history and popular science. Recently, I wrote a lot of articles to popularize the modern theory of evolution. One of my books on evolution, Theory of Evolution Evolving, is in press in Hong Kong.

Here is the English version of one of my poems which I put in the front page of my Ph.D thesis and published by the National Library of Poetry (Maryland, U.S.):
On the River Bank Without A Boat
Here is a collection of my poetry and articles. They are in GB code of Chinese:
Collection of Fang Zhouzi's Works 方舟子诗文集
---
A Netizen
My Contributions to the Chinese Internet
Aug., 1993, started to join the fight in the Usenet newsgroup alt.chinese.text, and made a lot of net friends and enemies there.
Dec., 1993, helped to create the first IRC channel for Chinese language users, #hanzi.
Feb., 1994, proposed to publish the first electronic Chinese literacy magazine, Xin Yu Si (New Threads 新语丝) and edited its first issue.

Apr., 1995, proposed Lu Xun's Works Project(鲁迅著作工程), to input the important works by Lu Xun, the greatest Chinese modern writer, to electronic format.